Get your toes a tapping and sing it out loud with the King of the Apes, King Louie - "Now I'm the king of swingers, whoa, the jungle VIP". Can you picture that big orange orangutan singing out - "I wanna walk like you, talk like you!" Disney characters are so much fun. King Louie is a blast to meet at Animal Kingdom. He's usually pretty animated and funny. Take a look at Kelly's newest collection today that's inspired by that big hairy ape!
Inside this kit you'll find lots of jungle fun elements like a snake in a tree, palm tree, bananas, story book, panther, King Louie doll, monkeys, ferns, flowers, ribbons, buttons, flairs, banners, word tags and more along with 18 papers in fun patterns and animal prints and a full light brown alpha.
There's a coordinating set of page starters including 2 cluster frames and 3 word art titles.
You can find this new release at the
Kellybell Designs Store
priced at 25% off this weekend only. Visit the store and see all the amazing collections from Kelly.
The colors in this kit are perfect for meeting your Jungle Book friends and for the Jungle Cruise. Here's a page that I made.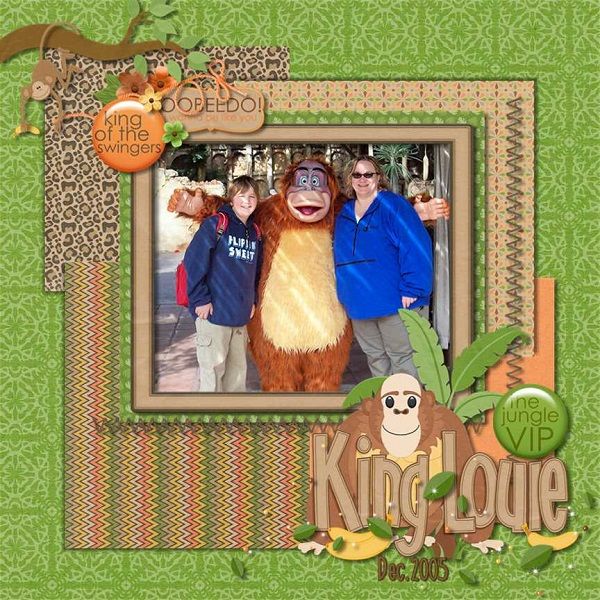 Kelly's Creative Team ladies have 3 wonderful freebies for you today. You can find them at
Jessica's Blog
,
Linda's Blog
and
Roxana's Blog
. Give them some love when you visit their blogs. Have a great weekend and happy scrapping!